Sunset Spotlight/Police Blotter
Calendar of Events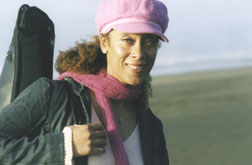 photos: Philip Liborio Gangi
Song of the Sea: Singer and songwriter Mica Lee Williams takes a stroll down Ocean Beach with her guitar on a recent
Saturday afternoon. Williams performs in Sunset District cafes, as well as at international venues.

Sunset Merchants Oppose Plan for 9th Ave. Garage Entrance
Fearing increased gridlock in an area that already has heavy traffic, the Inner Sunset Merchants Association is lobbying to prevent the creation of a Lincoln Way entrance for an underground parking garage at Golden Gate Park's Music Concourse.
"Brownouts" at Sunset Firehoues Expected to Increase due to Budget Deficits
The SF Fire Department is closing its stations and reducing paramedic services in the Richmond and Sunset districts in an effort to lower its citywide operating expenses by $7.5 million over the next 18 months. There are three firehouses in the Richmond District and four in the Sunset District.
Golden Gate Park Golf Course at the Fore
New Management Team Works to Improve Facilities, Increase Duffer Base
When Wayne Kauppi's company Global Golf Management took over the operation of the Golden Gate Park Golf Course (GGPGC) in March of 2001, the place had fallen upon hard times.
Group Still Serves the Diverse Needs of Seniors
An unassuming peach-colored building stands on Judah Street in the Outer Sunset District. Inside is a senior center that earnestly strives to improve the lives of its clients.
Little Wishes Chase Away Little Patients' Pain
An extended stay in the hospital can be a stressful time for anyone, especially a child. The nurses at the California Pacific Medical Center understand this. That is why they recently expanded their Little Wishes program to the Children's Hospital at UCSF Medical Center in the Sunset District.
Songwriter Wins Contest, Performs on Local and International Stage
"Oh, how I cried the day John Lennon died. Millions of people dropped to their knees with the bullet of a madman's gun," sings Mica Lee Williams on "John Lennon," a song from her new album "Lucid Dreaming High."
Author Carves Up History of City's Butchertown
Districts such as the Cow Hollow, Tenderloin, North Beach and the Richmond are familiar to most San Franciscans - but what about Butchertown? Butchertown was a six-block area of slaughterhouses, canneries, saddle shops and meat processing plants on the west side of Potrero Hill, off Third Street roughly between 16th Street and Evans Avenue.
COLUMNS:
John M. Lee: Sunset Real Estate Market Review
Supervisor Fiona Ma: Hard Work Last Year Paid Off