Sunset Spotlight/Police Blotter/Letter to the Editor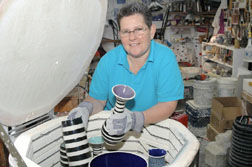 Photo: Philip Liborio Gangi
Passionate Potter: Eileen Goldenberg creates unique pottery for the M.H. de Young Memorial Museum store.
Sunset Artist Creates Museum-quality Pottery
Eileen P. Goldenberg is definitely not a starving artist. At 52, she is an accomplished potter, successful businesswoman and emerging encaustic painter.
Serial Burglars Caught, Police Returning Property
Since Sept. 13, San Francisco police officers have arrested three men believed to be key players in the "tunnel-home-entrance burglaries," a string of robberies that plagued homes in the Sunset, Richmond and Ingleside districts between January and November.
Donaghy's Pub Closes after being Cited, to Reopen as The Dubliner
Two years ago Molly Malone's Irish Pub on Lincoln Way was sold, changed its color from green to red and became Donaghy's. This past November, Donaghy's was sold and painted black with gold trim on the way to becoming another Irish pub-incarnation called The Dubliner.
Artist, Teacher Thinks Big for Public Art Projects
Aileen Barr is a talented ceramic-tile artist who has created impressive public art projects in Ireland, England and San Francisco.
Implementation of Safety Project Starts
A Community Action Plan based on a pedestrian safety study, conducted by the Sunset District Neighborhood Coalition and dubbed "4 a Safer Sunset," was presented at a Town Hall Meeting Nov. 10 at the Sunset Recreation Center.
Civil War Comes Alive for Students at United Irish Cultural Center Event
As most kids were sitting inside their classrooms on an unusually hot Nov. 16 morning, some lucky elementary and middle school students participated in a "hands on" living history experience of the American Civil War.
Streetcars Once Rumbled through Golden Gate Park
Walking Tours Bring Richmond History to Life
"Why shouldn't 20,000 of the dwellers of our city find their way to the ocean beach every Sunday afternoon? The comparatively few who can afford the expense make a trip at least once a season to the ocean at Monterey, Santa Cruz or some other nice spot on the coast, but close at hand there is a stretch of ocean beach that is equal to any of the more popular destinations that are farther off. A railroad passing the Golden Gate Park and terminating at the Ocean Beach would surely be an immense success." This quote appeared in the "San Francisco Newsletter and California Advertiser" Aug. 28, 1880.
COLUMNS:
Caroline Grannan: The School Application Process
John M. Lee: Real Estate Year in Review
Supervisor Fiona Ma: The Season of Giving
Assemblyman Leland Yee: Year-end Legislative Wrap-up