Sunset Spotlight/Police Blotter
Historical Photo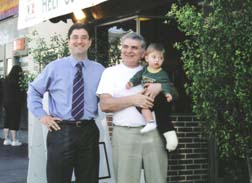 photo: Philip Liborio Gangi
All in the Family: Tony Accardo Jr. (left) stands in front of Villa Romana Ristorante Italiano on Irving Street while his dad, Tony, holds his grandson Tony III. The Accardo family members are celebrating the 50th anniversary of the family-owned Villa Romana.

Museum Preserves "Chinese Holocaust"
Non-profit group wants history of occupation taught in schools
The Chinese Holocaust Museum of San Francisco celebrated its second anniversary in the Sunset District earlier this year. Founded by history professor Tien-wei Wu in 2000 and opened in temporary quarters in Oakland, the museum moved to its current San Francisco home in January of 2003.
Storm Runoffs Pose Environmental Risks
San Francisco is one of only two cities in the state - the other being Old Sacramento -- that treats storm water, domestic sewage and industrial wastewater together. The advantage of having a combined system is that any contaminants present in storm runoff can be treated before they hit the bay or ocean. The downside is that there's always a risk of overflows, potentially resulting in the release of mostly untreated sewage.
False Alarm Has Garage Foes Scrambling to Testify
Reacting to speculation that the proposed southern entrance to the new Golden Gate Park garage would be closed, except during high-volume periods, about a dozen residents from the Richmond District showed up at the Golden Gate Concourse Authority's meeting March 8 to express their concerns.
Beach Study Hopes to Unlock Mystery of Erosion
An erosion study at Ocean Beach is currently underway to better understand sediment transport processes and patterns.
Conservatory Teacher Still at Post After 50 Years
"Every day is exciting," says Yaada Weber, who has been teaching flute and chamber music at the San Francisco Conservatory of Music (SFCM) for the past 50 years.
Family Love Affair Blooms for Half a Century at Villa Romana
On April 20, Villa Romana restaurant will celebrate 50 years of business in the Sunset District by rolling back its prices to the year 1955.
"We're going to lose a lot of money that day," said Manager Tony Accardo, who has been planning the event for five years.

COLUMNS:
Capt. Keith Sanford: Police Beat
John M. Lee: The Ins and Outs of TICs
Supervisor Fiona Ma: Honoring the Sunset's Heroes
Assemblyman Leland Yee: Update on Legislative Issues