Sunset Spotlight/Police Blotter/
Letter to the Editor/Calendar of Events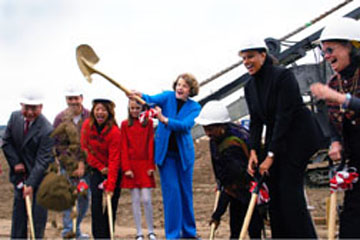 photo: Francis da Silva
Breaking Ground: Dirt goes flying as Sen. Dianne Feinstein (center) helps with a ground-breaking ceremony Oct. 16 for a new school at Vicente Street and 24th Avenue. To the left of Feinstein is her granddaughter Eileen and Supervisor Fiona Ma. To the far left is school board Commissioner Heather Hiles. The new school, formerly known as the Parkside Elementary School, will be named after the senator.
Major Sunset Pipeline Project Set to Begin
Public Utilities Commission's $8.6 Million Project Could Take 2 Years to Finish
A project to replace miles of old pipes running through the Sunset District is set to start in late November, according to officials with the S.F. Public Utilities Commission (PUC).
City Mulls Building New Southern Entrance to Golden Gate Park
A controversial plan to build an 800-space parking garage underneath the Music Concourse in Golden Gate Park took a step forward in October when 10 options for a new southern entrance to the garage were unveiled.
Election Propositions Debated at Forum
An election forum sponsored by the Sunset-Parkside Education and Action Committee (SPEAK) in October gave west-side residents the opportunity to hear arguments in favor of and against several key ballot measures.
City's German Community Stays Linked to Roots
The German School of San Francisco successfully links the city's German community to its language and culture, through its creative way of teaching German and the programs it sponsors.
St. Anne's Celebrates 100 Years Serving the Sunset District
St. Anne's Catholic Church is celebrating its 100th anniversary with a month of special activities and masses.
Japanese Students Visit BridgePoint
Japanese students from the Yamano School of Aesthetics visited the residents of BridgePoint on Oct. 5.
Capt. Keith Sanford: Police Beat
Supervisor Fiona Ma: Sunset Improvement Projects
Assemblyman Leland Yee: Future of Medicine Conference
SF Dept. of Environment: Great Hwy. Project Moves Forward