Sunset Spotlight/Police Blotter
Historical Photo/Calendar of Events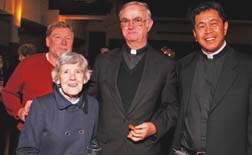 photos: Maureen McGetigan
Honoring Service: On Nov. 7, the community celebrated the 100 year celebration of St. Anne's. In the photo at right, Bishop John Weaver pauses for a photograph with Cynthia Liberato. Pictured right to left is Father Ed Dura, pastor at St. Anne's,
former pastor Father Anthony McGuire and Mr. and Mrs. Keith Farlow.

Stigma Viewed as Major Villain in Curtailing Teen Suicide
The moment Kevin Hines leapt off the Golden Gate Bridge he knew he had made a terrible mistake. Plummeting toward almost certain death, unable to breath because of the speed of his descent, he suddenly realized that he didn't really want to die. He wanted to live.
New Entrance for Park Garage Gets OK
The SF Recreation and Park Commission gave its stamp of approval to a controversial plan to build a southern entrance to an underground parking garage, now under construction in Golden Gate Park, which begins in the Inner Sunset District.
Rec. and Park Cuts Could Damage Popular Programs
Thirty-one employees of the SF Recreation and Park Department were handed pink slips in November, forcing deep cuts in popular programs for children and seniors in the Richmond and Sunset districts.
Lowell's Composers in the Schools Hit Right Notes Playing Classics
Many high school students' musical interests lie in hip-hop, anime music from Japanese cartoons and movie soundtracks. But even in today's hectic society, there are high school students enjoying, composing and listening to the ageless qualities of classical music.
School Garden Connects Students with Earth, Food
Throughout the Sunset District, parents, teachers and volunteers are providing elementary school students with the opportunity to create organic garden classrooms.
Capt. Keith Sanford: Police Beat
John M. Lee: Real Estate Market Review
Avrim Ben-Izak: Canadian Drugs - Facts & Myths
Supervisor Fiona Ma: Mental Health Services for Youth
Florence Kwo: Embracing Cultural Roots
Mayor Gavin Newsom: The Dream of Dream Schools
Judith Kahn: San Francisco's Midwinter Fair
Assemblyman Leland Yee: Safer Streets for the Holidays
SF Dept. of Environment: Have a "Green" Holiday Season